---
What is the role of culture in fostering community and belonging? How can art, literature, and media reveal suppressed histories and experiences? How can the arts create new identities and publics, and mobilize them to effect social change?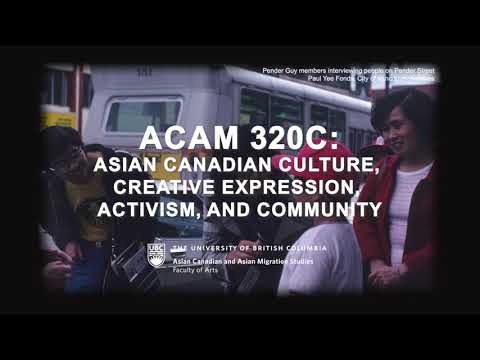 This course focuses on the rich and vibrant history of Asian Canadian cultural production in the Vancouver area and its relationship to anti-racist movements for redress, representation, and equality. The first part of this course uses archival collections, oral histories, and other research materials to examine how Asian Canadian culture emerged starting in the 1970s. We will look at key publications such as Inalienable Rice (1979), the first Asian Canadian anthology, and Rungh magazine (1992-); exhibitions such as The Japanese Canadians: A Dream of Riches (1977) ; media productions such as the Pender Guy radio show (1976-81); and groundbreaking art exhibitions such as Yellow Peril Reconsidered (1990) and Racy, Sexy (1993). The second part of the course considers how contemporary Asian Canadian culture engages ongoing debates about historical memory, identity, assimilation, gender, and sexuality. We will look at institutional access and support, funding structures, mentoring practices, and public reception. As much as possible, course assignments will involve visits to local cultural events and institutions (such as galleries, museums, and other art spaces) as well as learning from community elders and practitioners.
The goals of this class include: learning about the diversity of Asian Canadian cultural history; analyzing the role of culture in community formation and mobilization; developing skills such as grant writing, archival research, and digital production; understanding the ethics and responsibilities of community-engaged research.
In 2022W, ACAM320C: Asian Canadian Culture, Creative Expression, Activism, and Community will be offered in Term 2 on Tuesday and Thursday, 9:30-11am.  It will be taught by Dr. Chris Lee from the Department of English Language and Literatures.